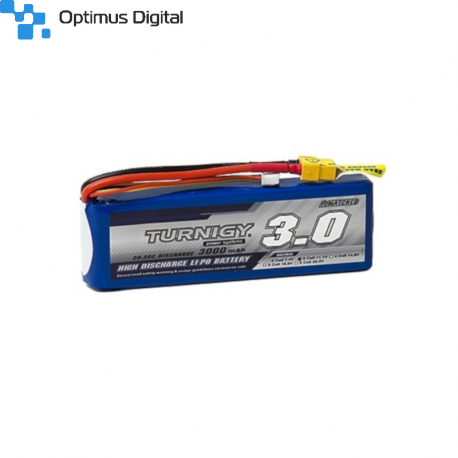 View larger
Imaginile sunt utilizate exclusiv cu titlu de prezentare. Fotografiile nu creează obligații contractuale.
Turnigy 3000 mah 3s 20c Lipo Pack W/XT-60
0104110000037299
New product
Turnigy batteries are known the world over for performance, reliability and price.

See description for more details about the product.
Add to cart now!
0 Item Items
This product is no longer in stock
Warning: Last items in stock!
Availability date:
More info
Product Description
Turnigy batteries are known the world over for performance, reliability and price. It's no surprise to us that Turnigy Lipoly packs are the go-to pack for those in the know. Turnigy batteries deliver the full rated capacity at a price everyone can afford.  
Turnigy batteries are equipped with heavy duty discharge leads to minimise resistance and sustain high current loads. Turnigy batteries stand up to the punishing extremes of aerobatic flight and RC vehicles. Each pack is equipped with XT-60 connectors and JST-XH style balance connectors. All Turnigy Lipoly batteries packs are assembled using IR matched cells.
You won't find a better deal in Lipoly batteries anywhere!
Lithium Polymer batteries are used in many RC hobby industries. Over the last few years, Lipo batteries have become the most popular battery choice for anyone looking for a longer run time and higher power.
Lipo batteries weigh less and can be made into almost any size or shape. Lipo batteries have higher capacities, hold more power and have a higher discharge rate, meaning they pack more punch. For safe use and storage of Lipo batteries, you need to follow the rules and treat the batteries with the respect they deserve.

Specifications
Minimum Capacity: 3000mAh
Configuration: 3S1P / 11.1v / 3Cell
Constant Discharge: 20C
Peak Discharge (10sec): 30C
Pack Weight: 238g
Pack Size: 137x 43x 19
Charge Plug: JST-XH
Discharge Plug: XT-60

Product Specifications
Shipping Weight(g): 285.60
Length: 164.00
Width: 30.00
Height: 57.00
Capacity (mAh): 3000.00
Discharge(c): 20.00
Length-A(mm): 137.00
Height-B(mm): 43.00
Width-C(mm): 19.00
Unit Weight (g): 238
Max Charge Rate(C): 2.00
Discharge Plug: XT60

Don't delay. Buy today.