Filament Spectrum PLA Pro was manufactured using raw materials developed for 3D printing.
The filament Spectrum PLA Pro is a material based on modified PLA dedicated to the manufacturing of filaments for 3D printing. Through the orientation of the chemical composition of the material to achieve satisfactory properties required in additive manufactured items, the advantages of PLA and ABS were successfully combined. It is thus feasible to obtain a high impact resistance of printed items (50% higher than in the classic ABS material) with high tensile resistance and substantial rigidity, which is typical for PLA-based materials. The changed chemical composition has improved the flowability of the material, making the filament suitable for industrial application which requires good mechanical strength properties, high printing efficiency and first of all the possibility to increase the printing speed in order to boost the additive manufacturing process capacity.
PLA Pro material is also characterized by an increased flow index.
Elements produced by using Spectrum PLA Pro are characterized by:
An extremely high impact resistance as compared to classic materials based on PLA, plus an impact resistance higher than in ABS by 50%
A higher process capacity due to the possibility to increase the printing speed (as a consequence of improved flowability)
Better adhesion between layers allowing for smoother side surfaces
Lower flammability as compared to the classic PLA and ABS.
PLA Pro advantages:
a good alternative to styrene-based materials
printing possible without a hot pad
easy separation of the object from the table
high strenghtness comparable to ABS
no shrinkage after cooling
not flammable
an ideal side surface of printouts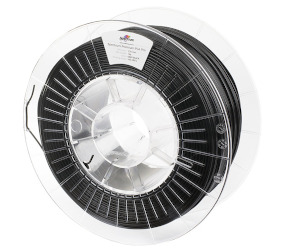 Post annealing

Filament Spectrum PLA Pro can be treated at high temperature using a heating chamber. After the crystallization of the printout, the model is characterized by increased thermal resistance and almost twice higher resistance than ABS.
The general guideline concerning the crystallization process can be found at the top of the page before the product description.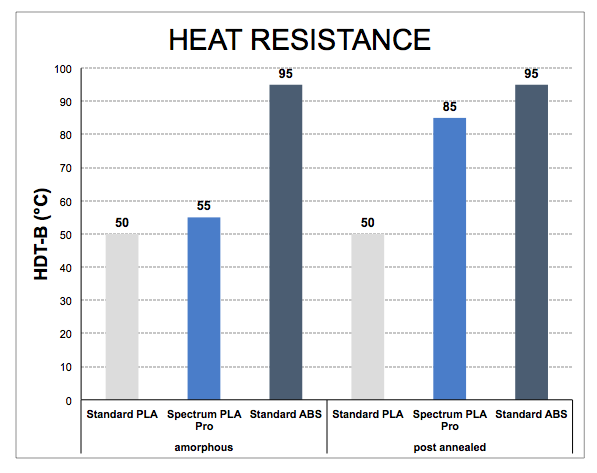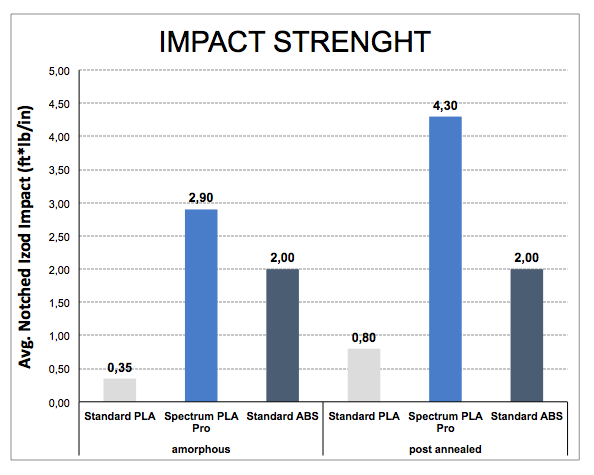 Packaging

Filament is reeled on the neat, transparent spool. Each spool contains information on the type of material, diameter and recommended printing temperature. Filament is vacuum-packed with a moisture absorber. Instruction manual inside. Whole product packed in the original, folied Spectrum Filaments packaging.
General Information
| | |
| --- | --- |
| Color: | Black |
| RAL:  | 9017 |
| Diameter:  | 1.75mm |
| Dimensional tolerance:  | ± 0.05mm |
| Printing temperature:  | 185-230°C |
| Heated bed:  | not needed |
| Net weight:  | 1000 g |
| Total weight:  | 1400 g |
| Spool dimensions:  | external diameter – 20cm, internal diameter. 5,2cm, width. 6,7c |
Physical & thermal properties of basic material
| | |
| --- | --- |
| Specific Gravity:  | 1.22 g/cc |
| MFR (210°C / 2.16kg), g/10 min:  | 6 (D1238) |
| Heat Distortion Temperature:  | 57°C |

Due to its characteristics, the filament Spectrum PLA Pro may be used in applications which require high impact resistance and very low processing shrinkage of items and high dimensional accuracy. These applications are thus related to the production of all kinds of guards, bumpers and other similar items (including those of large sizes).