Reduced price!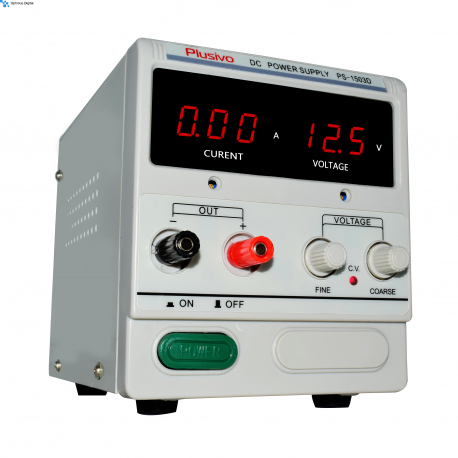 View larger
Imaginile sunt utilizate exclusiv cu titlu de prezentare. Fotografiile nu creează obligații contractuale.
Plusivo PS-1503D Power Supply (15 V, 3 A) (Refurbished)
0104110000071026
New product
Plusivo PS-1503D power supply is ideal for an amateur electronist because it has a stable voltage output up to 15 V, but also a maximum output current of 3 A.
0 Item Items
This product is no longer in stock
Warning: Last items in stock!
Availability date:
More info
Main features:
Output voltage: 0 - 15 V;
Output current: 0 - 3 A;
Weight: 2.6 kg;
Dimensions (L x l x h): 210 x 130 x 150 mm;
Input voltage: 220 V AC, 50/60 Hz;
Optimal temperature: -10 up to +40 Celsius degrees;
Relative maximum humidity: <80%;
Operating mode: constant voltage;
Output voltage and current displayed with a maximum error of 1%
Fuse 5 A 250 V;
Overview:
Plusivo power supply is designed for beginners as it is easy to use. The output voltage is adjusted with two potentiometers marked as FINE and COARSE. The FINE potentiometer adjusts the output up to 2 V and the COARSE potentiometer from 0 to 15 V.
Another advantage is the reduced size of the supply as it can fit on almost any workbenches.
Instructions:
1. Connect the power supply to a stable socket 230 V, 50/60 Hz.
2. Set up the desired output voltage using the two potentiometers.
NOTE!! On the first use it is recommended to calibrate the measurements displayed. You need to have a multimeter in order to measure the output voltage, and with a screwdriver adjust the potentiometer mounted right under each display.