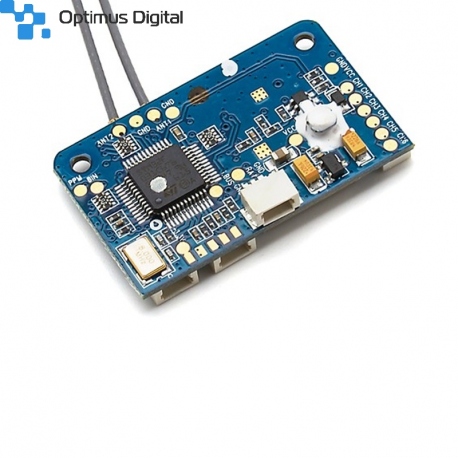 View larger
Imaginile sunt utilizate exclusiv cu titlu de prezentare. Fotografiile nu creează obligații contractuale.
Turnigy X6B PWM/PPM/I-BUS/SBUS Receiver 6CH 2.4G AFHDS 2A Telemetry Receiver
0104110000033505
New product
The Turnigy X6B is a 6 channel two-way receiver designed for multi-rotor aircraft.
See description for more details about the product.
Add to cart now!
0 Item Items
This product is no longer in stock
Warning: Last items in stock!
Availability date:
More info

PRODUCT DESCRIPTION
The Turnigy X6B is a 6 channel two-way receiver designed for multi-rotor aircraft. It uses the 2.4GHz AFHDS 2A (Automatic Frequency Hopping Digital System) protocol and has a dual omnidirectional antenna with superior noise reduction techniques for reliable interference-free operation.
It's compact, easy to install and boasts a rich easy to use interface. The X6B supports 6 channel PWM output, standard PPM output and i-BUS support for up to 18 channels alongside a reliable voltage sensor interface.
This is an excellent addition to your Turnigy TGY-i6s, Turnigy Evolution or Turnigy AFDHS 9x transmitters as well as a number of other AFHDS 2A transmitters such as FS-i10, FS-i8, FS-i6, FS-i6S, FS-i6X, FS-i4 and FS-i4X.
An excellent receiver for multi-rotor drones as it is lightweight, cuts down on cabling and comes with built-in battery monitoring.

Features:
Reliable, interference free 2.4GHz AFHDS 2A signal operation
Channels 6 (PWM), 8 (PPM), 18 (i-bus)
On-line Update
The X6B receiver is compatible with all AFHDS 2A transmitters such as Turnigy TGY-i6S, Turnigy TGY-i10 and Turnigy Evolution.
Ultra-light weight design
Dual antennas for most reliable interference-free operation
Reliable voltage sensing interface

Specifications
Channels: 6 (PWM), 8 (PPM), 18 (i-bus)
Model: Multi-Rotor
RF Range: 2.408-2.475GHz
Band width: 500kHz
Number of bands: 135
RF power: No more than 20dBm
2.4GHz protocol: AFHDS 2A
Modulation type: GFSK
Stick resolution: 1024
Low voltage alarm: Yes
DSC port: PPM / PWM / i-BUS
Antenna length: 93mm (Dual Antenna)
Power input: 4.0-8.4V DC
On-line update: Yes (wireless)
Range: >300m
Weight: 4.5g
Size: 36x22x7.5mm
Certification: CE0678, FCC ID: N4ZX6B00

PRODUCT SPECIFICATIONS
Brand: Turnigy
Capacity (mAh): N/A
Shipping Weight(g): 12.00
Length: 165.00
Width: 10.00
Height: 70.00

Don't delay. Buy today.