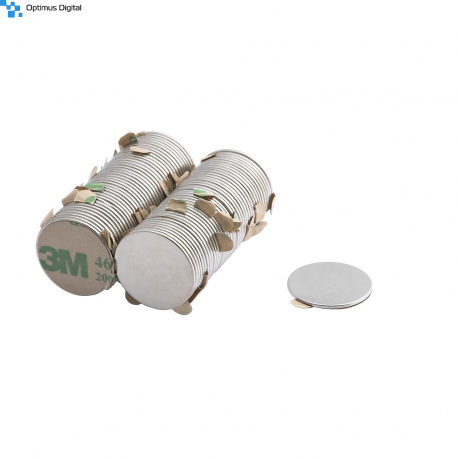 View larger
Imaginile sunt utilizate exclusiv cu titlu de prezentare. Fotografiile nu creează obligații contractuale.
Neodymium Disc Magnet 20x1 Thick N38 with 3M Tab
0104210000067972
New product
Neodymium disc magnet 20x1 thick N38 with 3M tab
See description for more details about the product.
Add to cart now!
0 Item Items
This product is no longer in stock
Warning: Last items in stock!
Availability date:
More info
Magnet parameters:
• diameter: 20 mm (±0.1 mm)
• height: 1 mm (±0.1 mm)
• weight of the magnet: ~2.4 g
• material: Neodym NdFeB
• direction of magnetisation: axial, along the height
• max. working temperature: 80 ° C.
• coating: Ni + Cu + Ni
• strength: ~1.1 kg
Magnetic properties of N38 material:
• remanence Br: 1.22-1.25 [T]; 12.2-12.5 [kGs]
• coercivity Hcb: ≥899 [kA/m]; ≥11.3 [kOe]
• coercivity HcJ: ≥955 [kA/m]; ≥12 [kOe]
• energy density (BH) max: ≥287-310 [kJ/m3]; 36-39 [MGOe]
• magnetic induction on the surface of the magnet is: ~0.07[T]

Don't delay. Buy today.