Description

Charger Description:
- Versatile charger for charging all popular battery sizes
- Ergonomic and unique design
- Blue LED backlit LCD display indicates: battery level and USB cable usage
- Charges AA/AAA/C/D and 9V batteries
- Equipped with additional USB output
- Has numerous safety functions: voltage control, sleep timer, short circuit protection, alkaline battery detection
- Charging Time: 4 hours *
- 3 years Warranty
- AC Adapter
* Depends on battery capacity: Based on 4 AA 1600 mAh rechargeable batteries

Advantages of the Charger:
Minus Delta V method

A method using the fact that the voltage on the loaded cell is lowered slightly (-Delta V) as soon as it is fully charged and the charging process is completed.

Protection against improper polarization
- Reverse battery protection

USB-Out function (output)
- Charge your device using the USB-Out port.

Detecting alkaline batteries and broken batteries
- Includes criteria for switching off the charger to prevent the charging of primary batteries, defective battery packs with reverse poloryzation.

Adapts to different types of voltages
- For use in all parts of the world

Technical Specifications:
Battery configuration:

AAA 2/4
AA 2/4
C 2/4
D 2/4
9V 1

Charging:

AAA 200 mA +/-10%
AA 450 mA +/-10%
C 450 mA +/-10%
D 450 mA +/-10%
9V 34 mA +/-10%
5V USB 1000 mA +/-10%

Cut-Off functions:
- Mode-Delta V/Timer

Control functions:
- Detecting bad polarization: mechanical
- Short circuit protection: no power, information on LCD display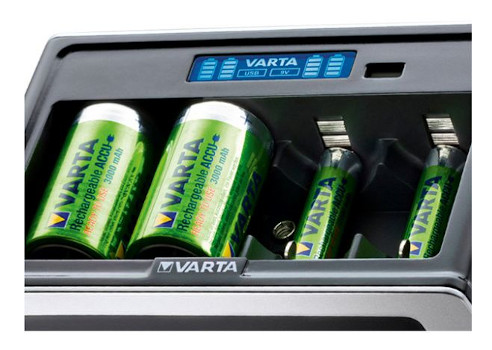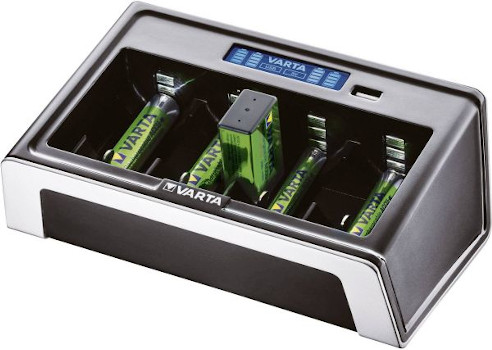 Don't delay, buy today.