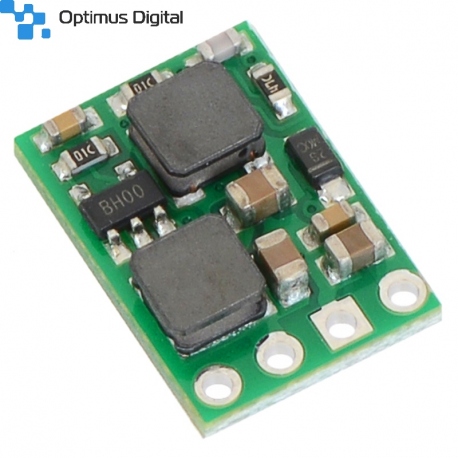 View larger
Imaginile sunt utilizate exclusiv cu titlu de prezentare. Fotografiile nu creează obligații contractuale.
Pololu 5V Step-Up/Step-Down Voltage Regulator S10V4F5
0104110000070074
New product
This switching regulator uses the SEPIC topology to produce 5 V from input voltages between 2.5 V and 18 V.
0 Item Items
This product is no longer in stock
Warning: Last items in stock!
Availability date:
More info
DESCRIPTION
The wide input range coupled with its ability to convert both higher and lower input voltages makes it useful for applications where the power supply voltage can vary greatly, as with batteries that start above but discharge below 5 V. The compact (0.4″ × 0.575″) module can supply over 400 mA in typical applications.
OVERVIEW
The Pololu step-up/step-down voltage regulator S10V4F5 is a switching regulator (also called a switched-mode power supply (SMPS) or DC-to-DC converter) with a single-ended primary-inductor converter (SEPIC) topology. It takes an input voltage from 2.5 V to 18 V and increases or decreases the voltage to a fixed 5 V output with a typical efficiency of 70% to 80%.
This flexibility in input voltage is especially well-suited for battery-powered applications in which the battery voltage begins above 5 V and drops below as the battery discharges. Since it lacks the typical restriction that the battery voltage stay above the required voltage throughout its life, new battery packs and form factors can be considered. For instance, a 4-cell battery holder, which might have a 6 V output with fresh alkalines but a 4.8 V nominal voltage with NiMH cells and a 4 V output with partially discharged cells, can now be used for a 5 V circuit. In another typical scenario, a disposable 9 V battery powering a 5 V circuit can be discharged to under 3 V instead of cutting out at 6 V, as with typical linear or step-down regulators.
FEATURES
Input voltage: 2.5 V to 18 V (can be higher than, the same as, or lower than the 5 V output)
Fixed 5 V output with 4% accuracy
Typical continuous output current: 400 mA
<2 mA typical no-load quiescent current
Integrated over-temperature shutoff
Small size: 0.40″ × 0.575″ × 0.1″ (10 mm × 15 mm × 3 mm)
Using the Regulator
During normal operation, this product can get hot enough to burn you. Take care when handling this product or other components connected to it.