The module is an adapter that is mounted directly on the LCD screen. The display should be 1602 or 2004 based on the HD44780 controller.
Communication I 2 C is an advantage because we only need two wires to communicate with the Arduino development pad or another microcontroller. The two wires are needed for clock and data.
The module contains a potentiometer to adjust the contrast and is also compatible with screens that have backlighting.
The address for the communication bus can be found in the datasheet.
Instructions for use:
1. Connect the I 2 C adapter to the LCD module.
You can use the adapter in several ways. An easy way to use is to use a breadboard to make connections between the adapter and LCD mode. If you experience fludor sticking, you can attach the adapter directly to the back of the LCD.
An example of a soldered adapter is shown in the picture attached below.
2. Connect the LCD to a development board.
In this tutorial, we'll show you how to use the LCD along with an Arduino development board. This LCD is compatible with any interface that supports the growth plate I 2 C. 
The connection to the development board is as follows: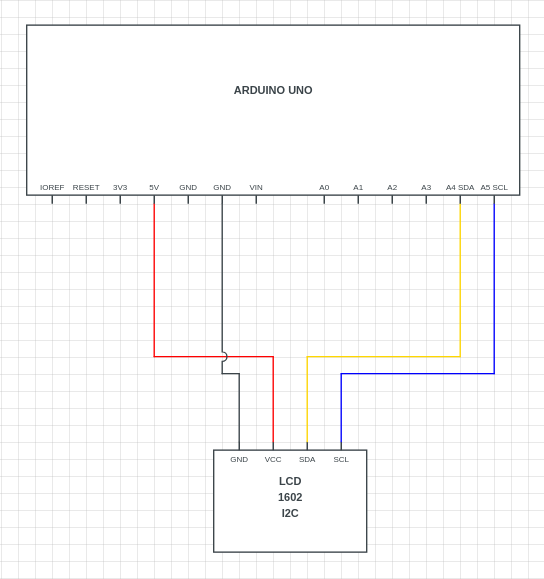 The SDA and SCL pins correspond to the A4 and A5 pins respectively. The mode is powered by a voltage of 5 V DC.
3. Charge the code.
All you need to do is upload a code Arduino development board to use LCD control interface I 2 C.
Required libraries are "Wire.h" and "LiquidCrystal_I2C.h". The first library is included in the Arduino IDE development platform, and the second one can be downloaded from the attached files below.
To add the library, you must open the development environment and select the Sketch> Include Library> Add .ZIP library tab  . Now a window opens where you need to select the library "LiquidCrystal_I2C.ZIP". 
The I 2 C address of the LCD is usually 0x27. If this address does not work, you can use the address 0x3F.
4. Adjust the contrast.
If you can not see the characters displayed on the screen, there is a blue potentiometer on the back of the mode to adjust the contrast.