Sale!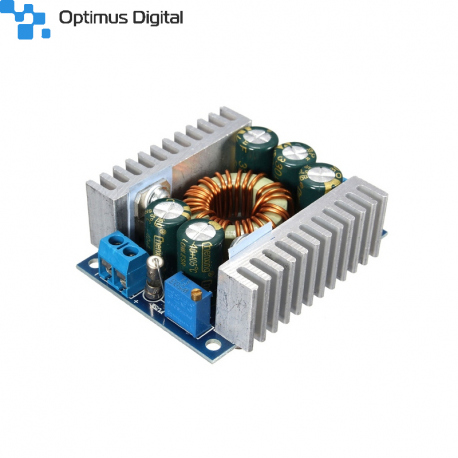 View larger
Imaginile sunt utilizate exclusiv cu titlu de prezentare. Fotografiile nu creează obligații contractuale.
12 A Low Ripple Adjustable Step-Down DC-DC Converter
0104110000015365
New product
This is an adjustable voltage source DC-DC buck 12 A with low ripple which is useful for your project

See description for more details about the product.
Add to cart now!
0 Item Items
This product is no longer in stock
Warning: Last items in stock!
Availability date:
More info
Overview
This product is a step-down voltage source with a medium power which can provide voltages between 1.25 V and 30 V, starting from 4.5 V voltage to 30 V.
It uses high-quality capacitors and has a low output ripple, making it suitable for precision applications. With this circuit, you can build your own lab controllable voltage source. All you need is a source of fixed voltage at 30 V DC maximum.
The only condition is to bear the amperage required. You can also include this module in any project of your own because it is very small and easy to mount.

Specifications
Input Voltage: 4.5 V to 30 V

Output Voltage: 1.25 V to 30 V

Maximum Output Current: 12 A

Normal Output Power: 100 W

Output power with improved dissipation: 200 W

Operating Frequency: 300 kHz

Efficiency: up to 95%

Low Ripple

Short Circuit and Over-temperature Protection

Dimensions: 60 x 51 x 22 mm

Weight: 76 g

Application range
This module can be applied to the buck field where the input voltage is higher than the output voltage, such as battery, power transformer, DIY adjustable power supply, 24 V car pen meter power supply, car LED lamp with power supply, industrial equipment step-down, 12 V to 3.3 V, 12 V to 5 V, 24 V to 5 V, 24 V to 12 V, etc.

Don't delay, buy today.