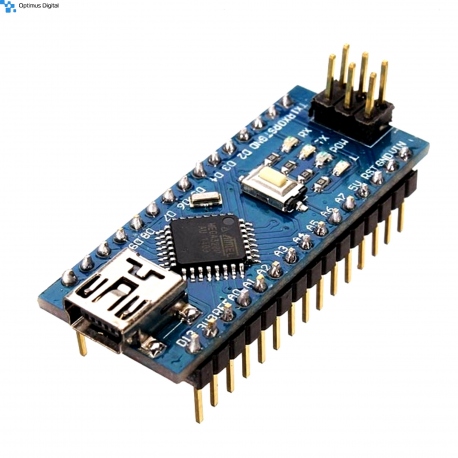 View larger
Imaginile sunt utilizate exclusiv cu titlu de prezentare. Fotografiile nu creează obligații contractuale.
Development Board Arduino Nano Compatible (ATmega328p + CH340)
0104110000017000
New product
Arduino compatible development board with Nano-based microcontroller USB serial converter ATmega328P and CH340

See description for more details about the product.
Add to cart now!
-1 Item Items
This product is no longer in stock
Warning: Last items in stock!
Availability date:
More info
Overview:
This development board provides a small plate with the same powerful microcontroller, Arduino Uno. It is compatible with Arduino and ideal for fast prototyping and easy integration. It can be used with other sensors to create different montages. Ideal for small projects and has the advantage that it can be programmed via USB.
The board uses the Atmega328p microcontroller, the same integrated circuit used in many Arduino boards. It basically offers the same functionality as Arduino Uno or Arduino Duemilanove but in a smaller form factor.
It can be programmed directly from the Arduino IDE, using the USB mini connection.
This board is ideal for small projects and has the advantage that it can be programmed via USB. Do not forget to install the driver (attached at the bottom) for chip CH340 before use.
Note: This board is a 100% compatible clone version produced in China from the same design as Arduino Nano. It is not the original version which is made in Italy.

Specifications:
Voltage: 5V;
Supply voltage limiter supported by: 7V - 12V;
I / O pins: 14;
PWM pin 6 (out of 14 I / O);
ADC pin: 8 (out of 14 I / O);
Flash Memory: 32KB / 16kB (2KB used by bootloader);
Current I / O pin: 40mA / pin;
Communication TWI, SPI and UART;
Operating frequency: 16MHz.
Dimensions: 45mm x 18mm.

Don't delay, buy today.