New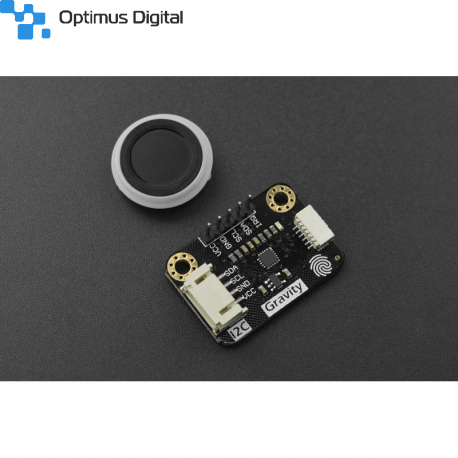 View larger
Imaginile sunt utilizate exclusiv cu titlu de prezentare. Fotografiile nu creează obligații contractuale.
Gravity: Capacitive Fingerprint Sensor
SEN0359
New product
Gravity: Capacitive Fingerprint Sensor


See description for more details about the product.
Add to cart now!
0 Item Items
This product is no longer in stock
Warning: Last items in stock!
Availability date:
More info
Introduction
This is a capacitive fingerprint sensor with fingerprint collecting, processing, storing, and comparison integrated all-in-one. Taking ID809 high-performance processor and semiconductor fingerprint sensor as the core, the sensor is equipped with built-in IDfinger6.0 fingerprint algorithms that enable it to complete all the fingerprint recognition independently. When working with our Arduino Library, the module is able to realize functions like fingerprint registration, fingerprint deletion, etc. Also, we offer upper computer software to help users conveniently operate this sensor.
This fingerprint sensor comes with round breathing LEDs and has a simple structure, small size, and delicate appearance. The sensor offers fast recognition speed and high security.
Compared with SEN0348 Capacitive Fingerprint Sensor/Scanner, this module adopts Gravity interfaces that make it easier to connect. In addition, it is 3.3V and 5V compliant and supports I2C communication, which is very suitable for working with controllers like UNO, micro: bit, and so on.

Features
360-degree fingerprint entry and matching
Self-learning function
CNC metal ring, plus aperture

Applications
Fingerprint door-lock
Drawer Lock
Identity Recognition
Authorization

Specifications
Operating Voltage: 3.3V-5V
Operating Current: <60mA
Communication: I2C
Storage Capacity: 80 fingerprints
1:1 verification time: 300~400ms
Pixel Resolution: 508dpi
Number of Pixels: 160x160
Fingerprint Detection Area: 8.0mm x 8.0mm
Working Environment: ‐40‐60oC/
Dimension: diameter 21mm/height 5mm
Adapter Dimension: 22.5*32mm/0.89*1.26"


Don't delay. Buy today.