More info

Description
These wheels are great for robotics, custom RC vehicles, or any other project you need to get rolling. They measure 70 mm (2.36″) in diameter and are designed for use with standard servos with 5.8 mm diameter splines with 25 teeth, such as FEETECH's FS5106R, Power HD's AR-3606HB, and SpringRC's SM-S4303R continuous rotation servos. The combination can serve as a small, inexpensive, and easy-to-control drive system for a miniature robot. The wheel presses onto the servo spline just like a typical servo horn, and the small screw included with the servo accessory pack for mounting servo horns should be used to hold the wheel in place.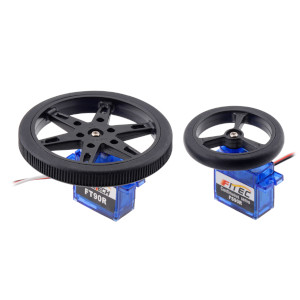 60 mm and 40 mm Pololu Wheels for Micro Servo Splines on FEETECH's FT90R and FS90R micro continuous rotation servos.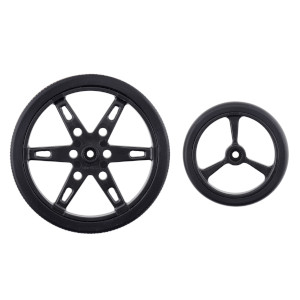 60 mm and 40 mm Pololu Wheels for Micro Servo Splines (20T, 4.8mm).

Six mounting holes for #4 or M3 screws make it possible to use the wheel with our universal mounting hubs for 6mm, 8mm, and 1/4″ shafts, enabling these wheels to be used with our 37D Metal Gearmotors and stepper motors with compatible shafts. The slots in the six spokes fit #2 or M2 screws and allow additional accessories to be mounted to the wheel such as decorations or parts of an encoder system. The included silicone tires, which feature horizontal treads for improved traction, are also available separately.
Other wheel options
We have similar wheels available in different sizes and colors and with different spline compatibilities:

We also carry an array of wheels compatible with 3mm D shafts:


Black Pololu Wheels with 90, 80, 70, 60, 40, and 32 mm diameters (other colors available).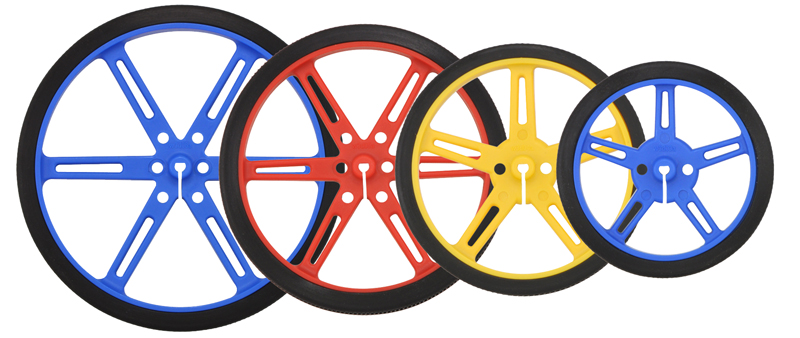 Pololu Wheels with 90, 80, 70, and 60 mm diameters in three colors: blue, red, and yellow.

Don't delay. Buy today.