Product Details
Introduction:
This product is suitable for connecting the power amplifier board, which can realize the Bluetooth wireless connection of the audio input end of the power amplifier board; it has strong Bluetooth signal receiving (20 meters unobstructed connection), lossless sound quality, simple and practical. The power input adopts the Android Micro USB interface, the voltage is 5 V, and the audio output is 3.55 mm audio head, which is convenient to use.

Steps:
1. Connect the power input to the 5 V power supply; (the power interface is adapted to the Android Micro USB interface). After the power is turned on, the power indicator blue light will flash.
2. Connect the audio output to the post effect.
3. Connect the audio output of the rear amplifier to the speaker.
4. Turn on the Bluetooth of the mobile phone and search for the Bluetooth device. XH-Electronics will be selected to match it. After the Bluetooth connection is successful, the blue light of the power indicator will stop flashing and it will be displayed as long light.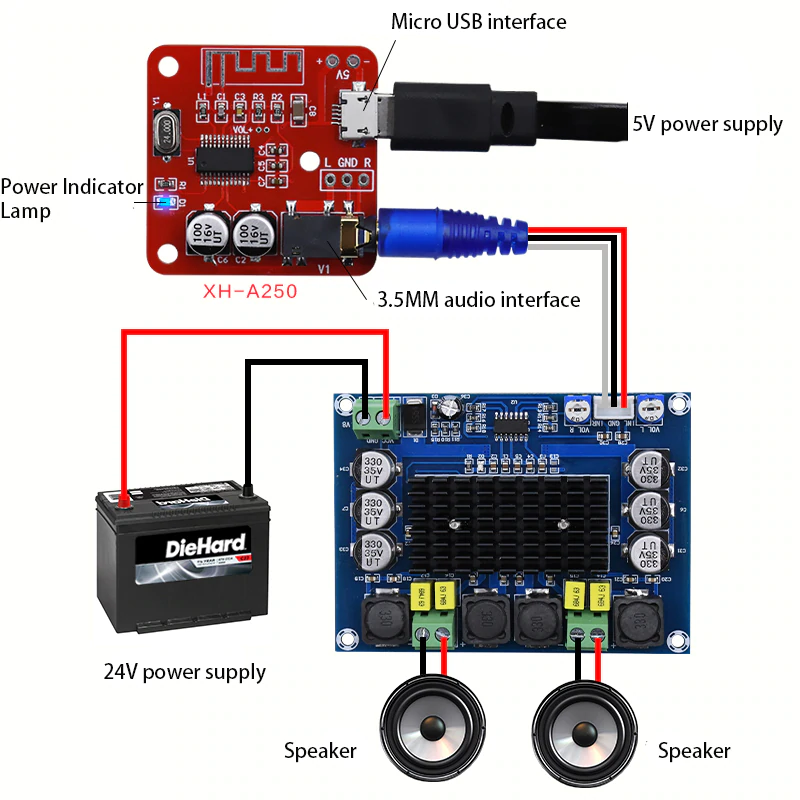 Specifications:
• Product Name: 4.2 Bluetooth
• Lossless Receiver Module
• Product Model: XH-A250
• Audio input: Bluetooth input (0-15 meters)
• Audio output: 3.5 mm audio line out
• Power Interface: Android Micro USB
• Input voltage: DC5 V
• Mounting hole distance: 9/17 / 3 mm
• Size: 35 * 35 * 8 mm
• Weight: 6 g

Don't delay, buy today.