More info
Introduction
The Solar Power Manager series are designed for IoT projects and renewable energy projects, providing safe and high-efficiency embedded solar power management modules for makers and application engineers.
Solar Power Manager 5V is a small power and high-efficiency solar power management module designed for 5V solar panel.
It features as MPPT (Maximum Power Point Tracking) function, maximizing the efficiency of the solar panel. The module can provide up to 900mA charging current to 3.7V Li battery with USB charger or solar panel. The ON/OFF controllable DC-DC converters with 5V 1A output satisfies the needs of various solar power projects and low-power applications. The module also employs various protection functions for battery, solar panel and output, which greatly improves the stability and safety of your solar projects.
Version History
V1.0: It is highly recommended to use a 3.7V lipo battery with protection circuits to improve battery safety.
V1.1(Newest): Battery (BAT IN) overcurrent and overdischarge protection is added to improve battery safety. It can be use for 3.7 lipo battery no matter it is packed with protection circuits or not.

Board Overview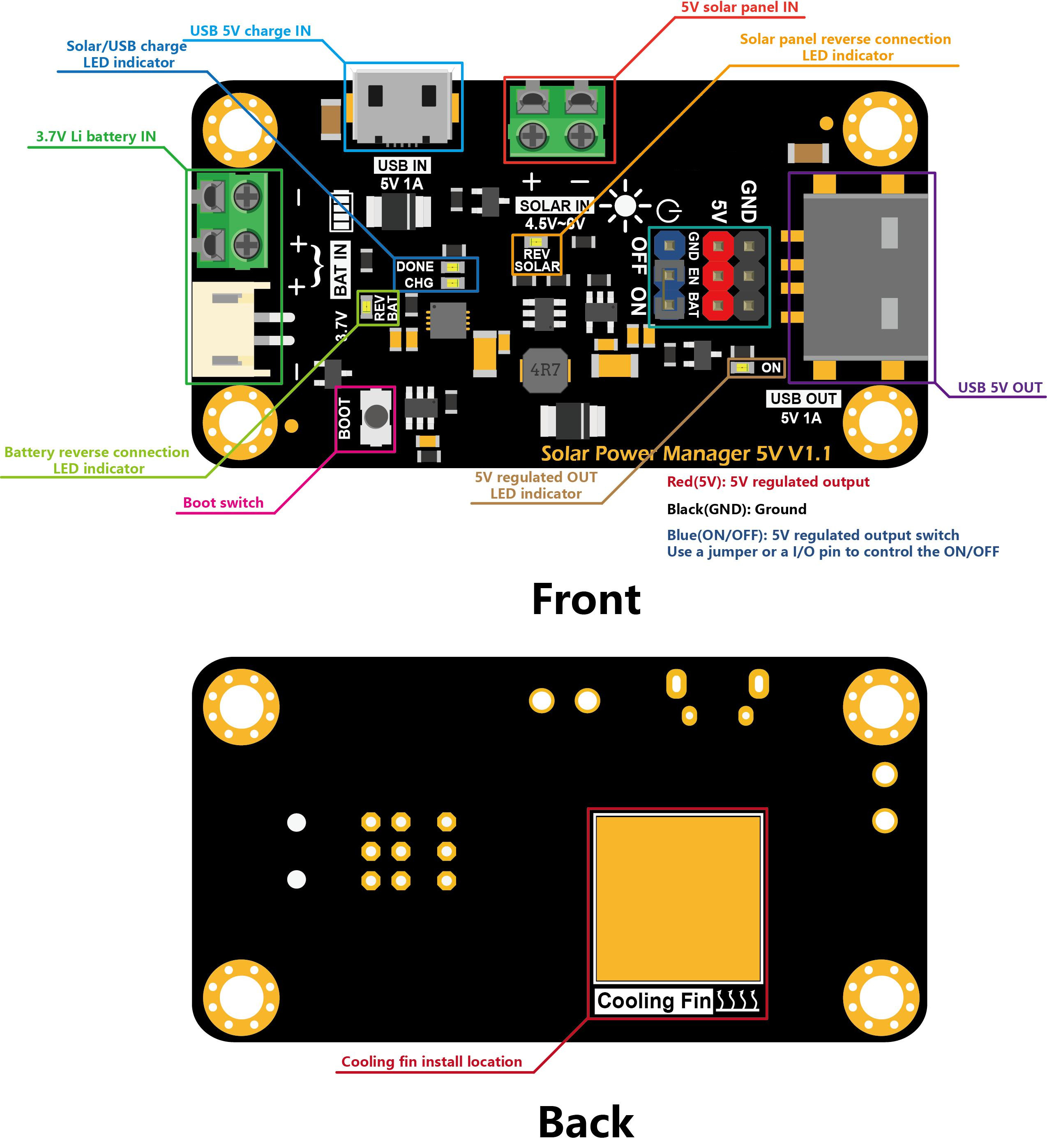 Solar Power Manager 5V

Connection Diagram


Build a solar powered system

Features
Constant voltage MPPT algorithm, maximizing solar panel efficiency
Designed for 5V solar panel
Double charging mode: solar/USB charger (900mA max charge current)
5V ON/OFF controllable regulated power supply for low-power applications
All-round protection functions
USB connector with ESD shell

Applications
Smart solar environment monitor system
Solar powered robot
Small solar street lamp
Solar power bank

Specifications
Solar Power Management IC: CN3165
Solar Input Voltage (SOLAR IN): 4.5V~6V
Battery Input (BAT IN): 3.7V Single cell Li-polymer/Li-ion Battery
Charge Current(USB/SOLAR IN): 900mA Max trickle charging, constant current, constant voltage three phases charging
Charging Cutoff Voltage (USB/SOLAR IN): 4.2V±1%
Regulated Power Supply: 5V 1A
Regulated Power Supply Efficiency (3.7V BAT IN): 86%@50%Load
USB/Solar Charge Efficiency: 73%@3.7V 900mA BAT IN
Quiescent Current: 

<1 mA

Operation Temperature: -40oC~85oC
Dimension: 33.0mm*63.0mm
Protection Functions:

BAT IN: over charge/over discharge/over current/reverse connection protection
5V/USB OUT: short circuit/over current/over heat protection
SOLAR IN: reverse connection protection


Don't delay. Buy today.