Description
The micro:bit is Single Board Computer (SBC) that contains an application processor with a variety of on-chip peripherals. Other peripherals are connected to this chip.
An interface processor is connected to the application processor and manages communication via the USB interface, including the drag-and-drop code flashing process. The interface processor does not control any of the peripherals on the board but is connected to the application processor on the internal board I2C bus.
The latest micro:bit supports all features of the original version so there are many cases where a user won't need to distinguish between the devices; every tutorial or program that already exists today is supported on the latest hardware.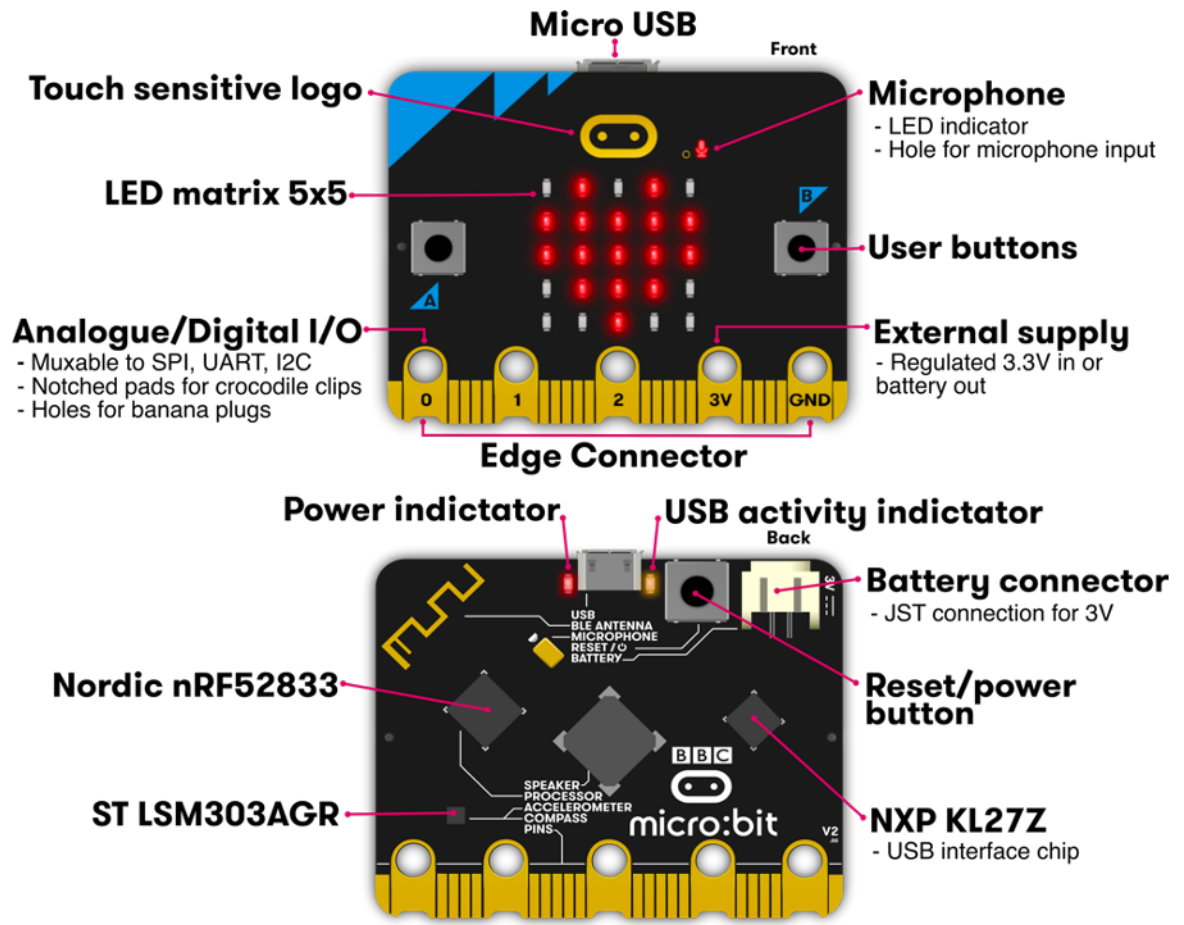 Specifications
nRF52 Application Processor
The nRF52 application processor is where user programs run. A single, complete application including user code, runtime code and Bluetooth stack is loaded and run directly from on chip flash memory. All user accessible GPIO pins are provided by this processor. There is an onboard 2.4GHz radio peripheral used to provide Bluetooth and custom radio capabilities via an off-chip aerial.
Model: Nordic nRF52833
Core variant: Arm Cortex-M4 32 bit processor with FPU
Flash ROM: 512KB
RAM: 128KB
Speed: 64 MHz
Debug: SWD, J0Link/OB
Bluetooth Wireless Communication
The on board 2.4GHz transceiver supports Bluetooth communications via the Nordic S140 SoftDevice, which provides a fully qualified Bluetooth low energy stack. This allows the micro:bit to communicate with a wide range of Bluetooth devices, including smartphones and tablets.
Stack: Bluetooth 5.1 with Bluetooth Low Energy (BLE)
Band: 2.4 GHz ISM
Channels: 50 2MHz channels, only 40 used (0 to 39), 3 advertising channels (37, 38, 39)
Sensitivity: -93 dBm in BLE mode
Tx Power: -40 dBm to 4 dBm
Buttons
The two buttons on the front of the micro:bit, and the 1 button on the back, are tact momentary push-to-make buttons. The back button is connected to the KL27 interface processor and to the NRF52 processor for system reset purposes. This means that the
application will reset regardless of if it is powered from USB or from battery. Front buttons A and B can be programmed in the user application for any purpose. A and B are debounced by software, which also includes short press, long press, and 'both A+B' press detection. Buttons operate in a typical inverted electrical mode, where a pullup resistor ensures a logical '1' when the button is released, and a logical '0' when the button is pressed. Both A and B buttons are connected to GPIO pins that are also accessible on the micro:bit edge connector.
Type: 2 tactile user buttons, 1 tactile system button
Debounce: (A & B) software debounced. 54ms period
Pullup (A & B) external 4K7, (System) 10K
Display
The display is a 5x5 array of LEDs. It is connected to the micro:bit as a 5x5 matrix. Runtime software repeatedly refreshes this matrix at a high speed, such that it is within the user persistence of vision range, and no flicker is detected. This LED matrix is also used to sense ambient light, by repeatedly switching some of the LED drive pins into inputs and sampling the voltage decay time, which is roughly proportional to ambient light levels.
Type: miniature surface mount red LED
Physical structure: 5x5 matrix
Electrical structure: 5x5
Intensity control: Software controlled up to 255 steps
Sensing: ambient light estimation via software algorithm
Colour sensitivity: red centric, red is 700 nm
Motion sensor
Model: LSM303AGR
Features: 3 magnetic field and 3 acceleration axis
Resolution: 8/10/12 bits
On board gestures: freefall
Temperature sensing
Type: on-core NRF52
Sensing range: -40C - 105C
Resolution: 0.25C steps
General Purpose Input/Output Pins
Rings: 3 large IO rings and two large power rings, 4mm plug and crocodile clip compatible
GPIO features:

19 assignable GPIO pins
2 are dedicated to the external I2C interface
6 are used for display or light sensing feature
2 are used for on board button detection
1 is reserved for an accessibility interface
19 may be assigned as digital input or digital output
19 may be assigned for up to 3 simultaneous PWM channels
19 may be assigned for 1 serial transmit and 1 serial receive channel
6 may be assigned as analog input pins
3 may be assigned to an optional SPI communications interface
3 may be assigned for up to 3 simultaneous touch sensing inputs

ADC resolution: 10 bit (0 - 1023)
Power supply
Operating range: 1.8V - 3.6V
Operating current (USB and battery): 300mA max
Onboard Peripherals budget: 90mA
Battery connector: JST X2B-PH-SM4-TB
Contents
1 x micro:bit
1 x USB cable
1 x Battery holder
2 x AAA batteries

Don't delay, buy today.