With an operating voltage range from 0 V to 11 V and built-in protection against reverse-voltage, under-voltage, over-current, and over-temperature, this driver is a great solution for powering up to two small, low-voltage motors. The carrier board has the form factor of a 14-pin DIP package, which makes it easy to use with standard solderless breadboards and 0.1″ perfboards.
DESCRIPTION
OVERVIEW
Texas Instruments' DRV8835 is a tiny dual H-bridge motor driver IC that can be used for bidirectional control of two brushed DC motors at 0 V to 11 V. It can supply up to about 1.2 A per channel continuously and can tolerate peak currents up to 1.5 A per channel for a few seconds, making it an ideal driver for small motors that run on relatively low voltages. The DRV8835 is a great IC, but its small, leadless package makes it difficult for the typical student or hobbyist to use; our breakout board gives this driver the form factor of a 14-pin DIP package, which makes it easy to use with standard solderless breadboards and 0.1″ perfboards. Since this board is a carrier for the DRV8835. The board ships populated with SMD components, including the DRV8835, and adds a FET for reverse battery protection.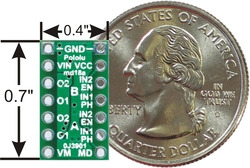 DRV8835 dual motor driver carrier, bottom view with dimensions
Features
Dual-H-bridge motor driver: can drive two DC motors or one bipolar stepper motor
Motor supply voltage: 0 V to 11 V
Logic supply voltage: 2 V to 7 V
Output current: 1.2 A continuous (1.5 A peak) per motor
Motor outputs can be paralleled to deliver 2.4 A continuous (3 A peak) to a single motor
Two possible interface modes: IN/IN (outputs mostly mirror inputs) or PHASE/ENABLE (one pin for direction and another for speed)
Inputs are 3V- and 5V-compatible
Under-voltage lockout on the logic supply and protection against over-current and over-temperature
Reverse-voltage protection on the motor supply
Compact size (0.7″×0.4″) with the form factor of a 14-pin DIP package
Pinout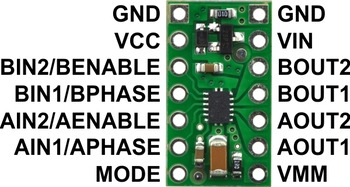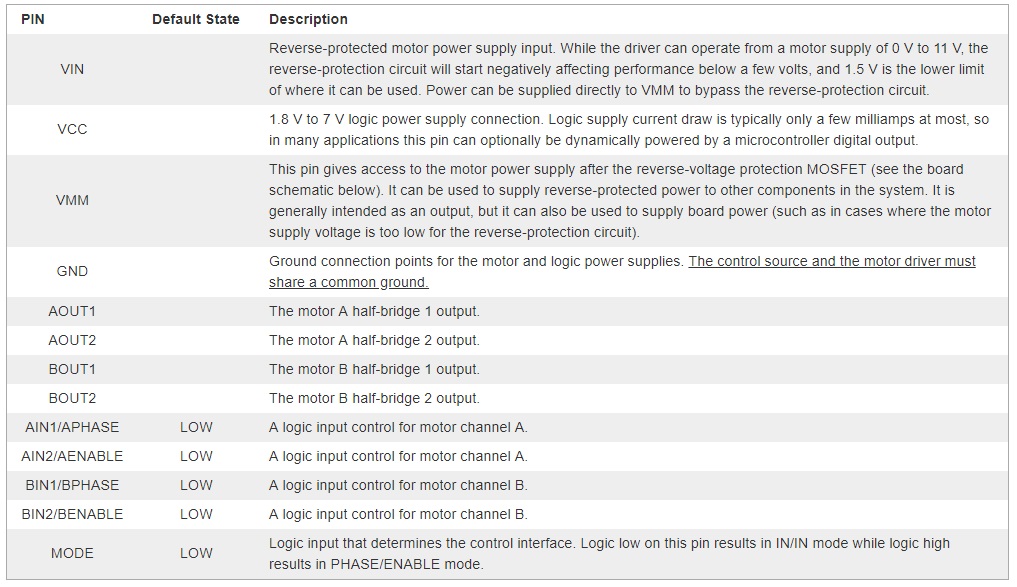 Real-world power dissipation considerations
The DRV8835 datasheet recommends a maximum continuous current of 1.5 A per motor channel. However, the chip by itself will overheat at lower currents. For example, in our tests at room temperature with no forced air flow, the chip was able to deliver 1.5 A per channel for approximately 15 seconds before the chip's thermal protection kicked in and disabled the motor outputs, while a continuous current of 1.2 A per channel was sustainable for many minutes without triggering a thermal shutdown.
Note that when both the logic and motor supply voltages are low (on order of a few volts), the driver will start overheating sooner and the maximum achievable output current will be lower than what we observed in the tests mentioned above.
The actual current you can deliver will depend on how well you can keep the motor driver cool. The carrier's printed circuit board is designed to draw heat out of the motor driver chip, but performance can be improved by adding a heat sink. Our tests were conducted at 100% duty cycle; PWMing the motor will introduce additional heating proportional to the frequency.
This product can get hot enough to burn you long before the chip overheats. Take care when handling this product and other components connected to it.
Schematic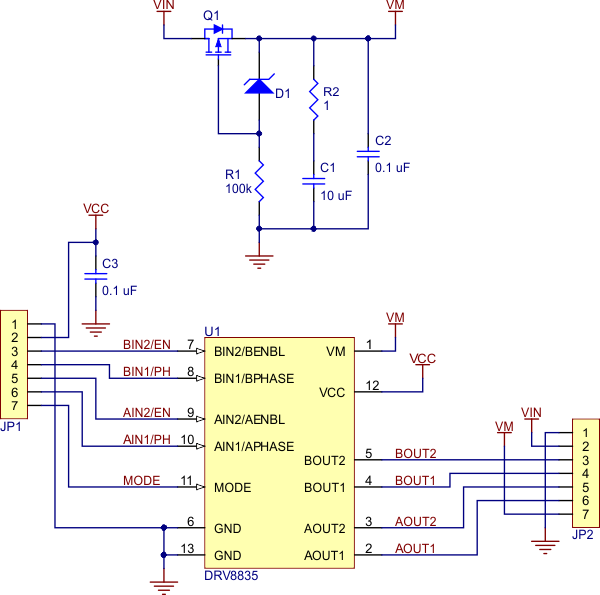 Schematic of the DRV8835 dual motor driver carrier
SPECS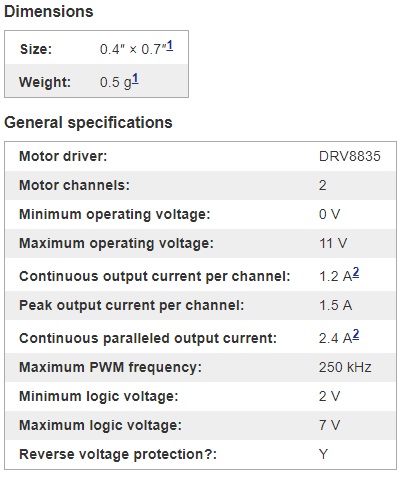 Notes:
Without included hardware.
Typical results with VIN=5 V, VCC=5 V, and 100% duty cycle at room temperature.
RESOURCES
Recommended links
Texas Instruments DRV8835 product page
    Texas Instruments product page for the DRV8835, where you can find the latest datasheet and additional resources.