Overview
This mini development board is based on ESP-8266EX chip and is useful for applications that need wireless data transmission.
It is compatible with Arduino IDE and NodeMCU firmware. It features 11 digital input/output pins, all pins supports interrupt/PWM/I2C/one-wire (except D0) and 1 analog input with 3.3V maximum input.
With this product, you can build innovative projects like you can control lights or appliances in the house.
Specifications
Chip: ESP-8266EX
Compatible with Arduino IDE
Compatible NodeMCU firmware
GPIO pins: 11
1 pin ADC (0 V to 3.3 V)
Operating Frequency: 80 / 160 MHz
Flash Memory: 4MB
I2C interface
Size: 34.2 x 25.6 mm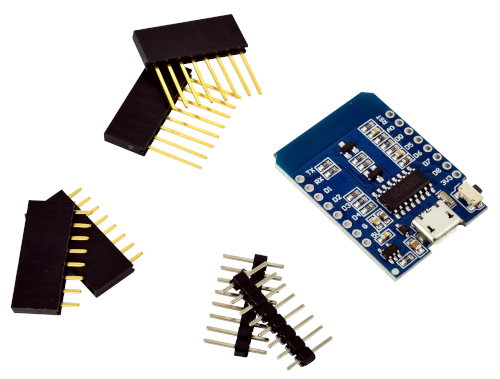 How to use
The Plusivo D1 Mini board is not included in the Arduino IDE Environment and needs to be added. You can add the board as follows:
Open Arduino IDE.
Go to FILE > PREFERENCES.
Copy the following link and add it to "Additional Boards Manager URLs" : http://arduino.esp8266.com/stable/package_esp8266com_index.json
Go to TOOLS > BOARDS > BOARDS MANAGER. 
Download and install ESP8266.
Restart Arduino IDE.
IMPORTANT!!! If you your operating system is Windows or MAC OS, you need to install the CH340G driver that can be found in the DOWNLOAD section of this page
Before uploading the code you need to select the Plusivo D1 Mini board. Go to  TOOLS > BOARD and select LOLIN(WEMOS) D1 R2 & Mini.  
Configuration settings are:
CPU Frequency: 80 MHz;
Flash Size: 4 M ( 3 M SPIFFS );
Upload Size: 921600
To test the board, you can upload an example. You can choose a generic one, like BLINK from FILE > EXAMPLES > BASICS, or a more complex one, like ESP8266WIFI > WiFi SCAN.

Don't delay, buy today.