Description

Raspberry Pi MOSFETS: Eight Solid State drivers for high current/high voltage DC loads

The 8-MOSFETS card is a stackable expansion card for Raspberry Pi. It has four high current channels which can drive 10A/24V loads and four high voltage channels which can drive loads of 2A/240V. Stackable to 8 layers, the card can provide up to 64 solid state outputs to each Raspberry Pi.
Pluggable connectors make the 8-MOSFETS card easy to use when multiple cards are stacked up. Four MOSFETS are optimized for current and can switch 10A and 48VDC loads. The other four MOSFETS are optimized for voltage and can switch 300 VDC/4A loads. Status LEDs show when MOSFETs are on or off.

COMPATIBILITY

The card is compatible with all Raspberry Pi versions from Zero to 4. All stacked cards share the I2C bus using only two of the Raspberry Pi's GPIO pins to manage all eight cards. This feature leaves the remaining 24 GPIOs available for the user.

POWER REQUIREMENTS

The Raspberry Pi MOSFETS card needs 5V to operate and can be powered from Raspberry Pi or from it's own 2.1mm barrel connector. The card draws about 10mA. If power is applied to the barrel connector, no other power supply is needed for the Raspberry Pi.

SOFTWARE INTERFACES

You can control the 8-RELAY card by writing your program in the language of your choice using the Command Line system or the Python Drivers. Controlling the MOSFETS from the browser can be easily implemented using the Node-Red node we provide.

SELF TEST

The 8-MOSFETS card can be tested before installation by running a simple command from the command line. The card will cycle each MOSFET on and off at 0.5 seconds interval. The lighting of the LEDs will assure that all MOSFETS are functioning. Optional loads on each channel can extend the user's confidence in the hardware.

STACKING MULTIPLE CARDS

Up to eight 8-MOSFETS cards can be stacked on your Raspberry Pi. Each card is identified by jumpers you install to indicate the level in the stack. Cards can be installed in any order. The three position jumper on the upper right corner of the card selects the stack level. For your convenience, two jumpers are provided with each card. For complex Home Automation tasks you can add to the stack one or more Home Automation cards with analog and digital inputs and outputs.

OPEN SOURCE HARDWARE

User's Guide and Schematics of the 8-MOSFETS card can be downloaded from our website.

DIN-RAIL MOUNTING

Install your Raspberry Pi and up to eight 8-MOSFETS cards parallel to the DIN-Rail using our DIN-RAIL Kit Type-1. Install the whole assembly perpendicular to the DIN-Rail using the DIN-RAIL Kit Type-2.

WHAT'S IN YOUR KIT

8-MOSFETS add-on card for Raspberry Pi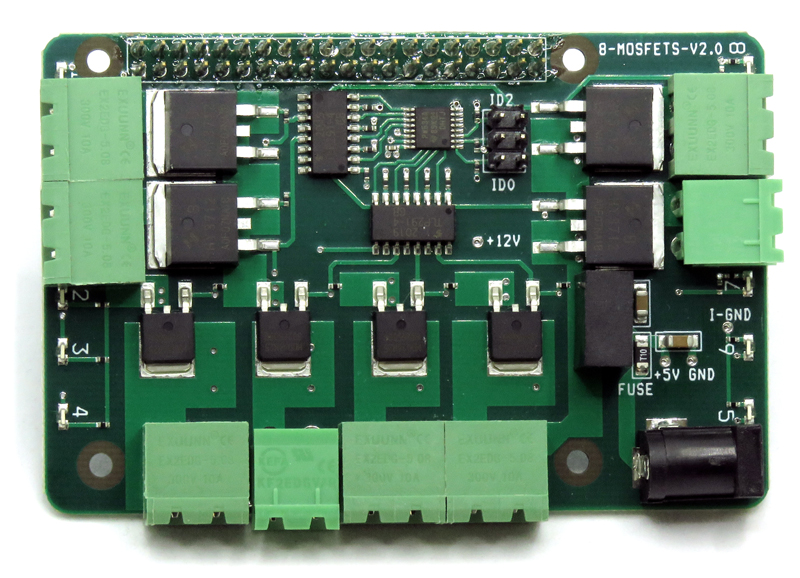 Mounting hardware
Four M2.5x18mm male-female standoffs
Four M2.5x5mm screws
Four M2.5 nylon nuts
Two jumpers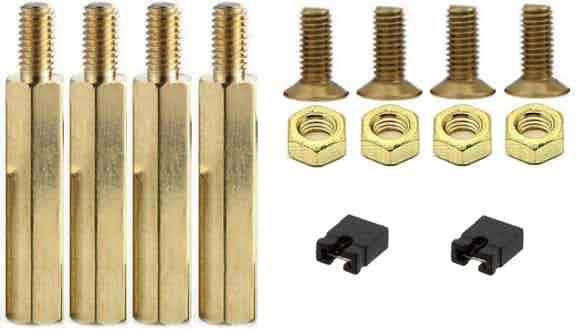 Eight 2-pin male connector plugs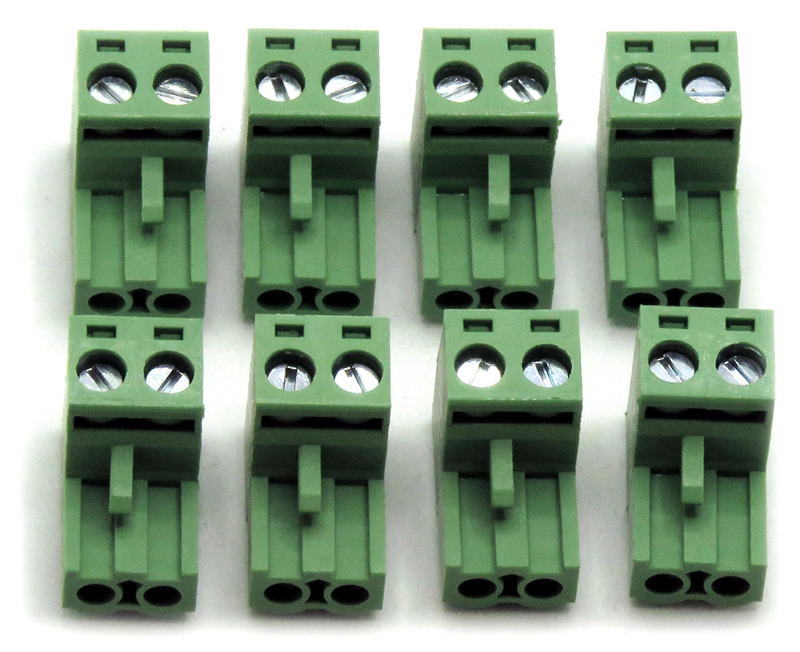 QUICK STARTUP GUIDE

1. Plug your 8-MOSFETS card on top of your Raspberry Pi and power up the system using only one 5V/3A power supply.
2. Enable I2C communication on Raspberry Pi using raspi-config.
3. Install the 8-MOSFETS software from github.com:
1. ~$ git clone https://github.com/SequentMicrosystems/8mosfet-rpi.git
2. ~$ cd /home/pi/ioplus-rpi
3. ~/8mosfet-rpi$ sudo make install
4. ~/8mosfet-rpi$ 8mosfet

The program will respond with a list of available commands.
5. Connect your load between pin 2 of any of the load connectors and the positive side of your external power supply.
6. Connect the negative side of your external power supply to pin 1 of the output connectors.
7. Turn on and off the load using the corresponding command.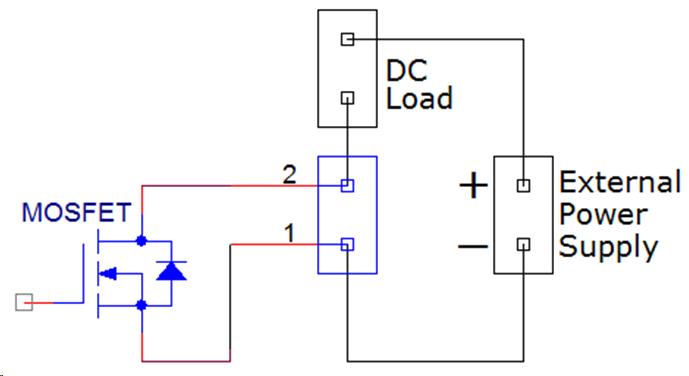 Raspberry Pi MOSFET load
Specification
Weight
100 g
Dimensions
10 × 7 × 2 cm
DIGITAL OUTPUTS
8 ea. Open Drain
POWER SUPPLY
4.75-5.25V/3A

Downloads

Don't delay. Buy today.